0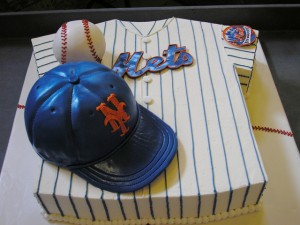 Batter Up!
Now this is a groom's cake that both he and she will love!  Not because they're both baseball fans (though that would be a cool reason, too.) I think this would be an "it pleases everybody" because he gets to represent his favorite team (he's happy) and it's just SO darn CUTE! (she's happy.)  See?  Everyone wins.
And really, the detail here is meticulous.  I love that the basic cake really looks like a fairly simple sheet cake (double height, though), but then it's dressed up with meticulous details that turn it into a baseball jersey.  And the cake artist totally nailed the Mets logos, don't you think?  A cake like this can go wrong FAST if the piping isn't perfect.  No chance of that here.
Check out the artist's other photos in his Flickr stream for other examples of team jerseys, like the Pittsburgh Penguins hockey jersey!  Which team would you pick?
Read More:
baseball grooms cakes
,
shirt grooms cakes
,
sports grooms cake