2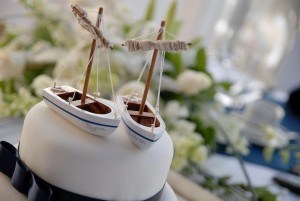 Isn't this sweet?
You know that my happy place is the ocean.  It's a good thing that I live in a state that's surrounded by saltwater on three sides, yes?
Well, even though I haven't formally cemented my list of 2012 New Year's Resolutions, floating around in the back of my head is the desire to learn to sail….someday.  But I'm thinking that at age ___, I need to start making some of those "someday" goals into realities.
I love this caketopper – two little sailboats, anchored deep below, at rest, not looking for a breeze to blow them.  Just staying put.  Sails are up.  Fondant water is smooth.  All is well.  Did you notice the couples' names on the boats?  Adorable.
I wish I knew who made it.  If you do, please pipe up and leave a comment.

Read More:
beach themed weddings
,
boat cake toppers
,
nautical cake toppers
,
ocean cake toppers
,
personalized cake toppers
,
sailboat wedding cake toppers
,
sailing themed weddings
,
unique cake toppers
,
wedding cake toppers