0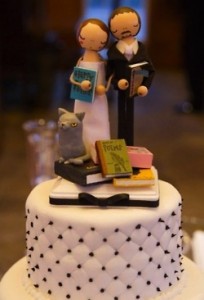 Oh, how I adore this caketopper.
I am a bookworm, you see.  I take books everywhere, and chances are, when I was little, you'd find me curled up reading someplace, rather than outside running around in circles with my peers.  That I'm not a big fan of sweating seems to coordinate with this whole reading preference thing.
But aren't they adorable?  Side by side through life, arms linked, reading, with a pool of books around their feet.  Love. It.
One more note, Young, Sweet Bride: if this is you, if you are a bookworm, marry a bookworm.  Don't marry someone who is annoyed that your nose is stuck in a book.  Just trust me on this one.
Read More:
book lover cake topper
,
book reading bride and groom
,
book wedding cake toppers
,
wedding cakes for readers