0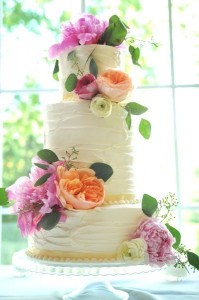 Are you there yet?  Are you in that absent-minded, don't-bother-me-with-real-life-details-like-laundry-and-oil-changes that spring incites?  I can think of nothing but glorious days, warm breezes, picnics, and playing outside.  I want to wear flowy dresses made from lots of linen, drink lemonade and crisp white wine, and gather floppy flowers.
And here is the perfect cake to epitomize that vibe.
Nine days out of ten, you'll find me buttoned up and starched, tailored and just so, and I love cakes that reflect that personality, too.  Crisp edges, architectural and symmetrical features, like this art deco cake.  But it's spring fever crazy time, y'all…time to let loose and be a little freer.
And what all do I love about this cake?  First of all, the big floppy blooms.  I persist in loving real flowers on a cake, versus sugarpaste creations (although I'm repeated ASTOUNDED at the artistry that goes into making those incredible creations so lifelike.)  But aren't these peonies just so?  And the greenery, placed haphazardly, lends to the breezy feeling.  I also love the fact that the ruffly finish to the cake is achieved here with buttercream, rather than something stiff, like fondant or white chocolate.  Finally, that double  layer in the middle lends an air of sophistication and hipness.  And the ivory ribbon around the base of each layer is perfection – finishing the cake without trying to compete with the stars of the show, the flowers.
I spied this cake on Wedding Wire, but couldn't find the artist.  If you know who baked this gorgeous cake, please let us know in comments!
Read More:
buttercream wedding cakes
,
double height tiered wedding cakes
,
orange wedding cakes
,
peony wedding cakes
,
Pink wedding cakes
,
ruffle wedding cakes
,
Rustic Wedding Cakes
,
spring wedding cakes
,
white wedding cakes