0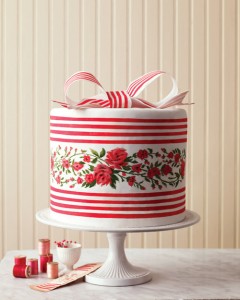 I went in search of something different today, and I found this lovely cake!
Don't dismiss it as just a single tiered cake with some pretty paint work work.  That is a double tiered, ten-inch cake.  It's hard to tell scale from the photo, but it's huge!  A complete statement piece.
The artist then took it a step further with the decorating.  Hand painted red flowers and stripes are then crowned with a ribbon bow that echoes the strip motif.  The cake inside?  Red velvet, course.
I think this cake is completely stunning.  The statement dimensions would work well with a myriad of decorating techniques, but I love the intricate painting and its retro vibe.  What a lovely cake this would be for a small wedding, a couple who likes to embrace a little color, or a second wedding.
The best part?  You can get the DIY on Martha Stewart's website.
Read More:
red and white wedding cakes
,
red wedding cakes
,
ribbon wedding cakes
,
rose wedding cakes
,
unique wedding cakes
,
vintage wedding cakes