0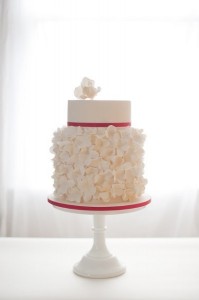 Hello, Dears!
Today, I'm starting to turn away from the sparse winterishness of January, and toward the ardent blush of Valentine's Day, which is just around the corner.
Do you celebrate?  We don't do much with it around these parts, but I love the sentiment of being sweet to everyone on V Day. It can be about romance, or you can expand the scope and make it a day to show love to all or those close to you.  Remember those fun Valentines we exchanged in grade school? Why did we ever stop?
Well – in that spirit, I offer you this lovely cake today from AK Cake Design in Portland, Oregon.  The bottom layer is a double height tier (we just love that exaggerated look), while the top is regular height. The bottom is covered by flouncy, ruffly hydrangea blossoms, and is separated from the top by a simple trim of hot pink ribbon, which is repeated on the edge of the stand for continuity. I love the spare use of color as well as the out-of-the ordinary flower choice. And I'm always a sucker for a small cake.
What are your thoughts about this cake?  Do you love it?  Let us know in comments!
Read More:
double height tier
,
double height tiered wedding cakes
,
hydrangea wedding cakes
,
romantic wedding cakes
,
small wedding cakes
,
white and pink wedding cakes
,
white wedding cakes