0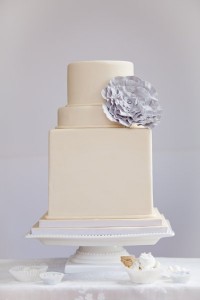 Isn't this pretty?
There is nothing that I like better than taking a little tradition, and twisting it on its head.  You still have the elegance that you started with, but you end up with something totally new and unique.
Here, we have a lovely white cake.  Sounds a little boring, yes?  But how could it be?  Our cake artists have played with shape, giving us both square and round.  They've changed up the heights of the various layers, making them all completely different (the square is, indeed, a cube!)  Finally, they've given us something completely unexpected with a totally plain piped trim.  I have never seen this treatment, and it's stunning.  The beautiful silver grey blossom and multiple cake boards stacked upon the cake pedestal complete the perfection.
I am in love with this cake.
We have come to expect the unexpected out of Austin, Texas, and Blue Note Bakery, located on Congress Avenue, does not disappoint.  Check out their website for more lovely cakes.
Read More:
Asymmetrical Wedding Cakes
,
austin texas wedding cakes
,
cakes with a single flower
,
double height tiered wedding cakes
,
grey wedding cakes
,
silver wedding cakes
,
texas wedding cakes
,
white wedding cakes