0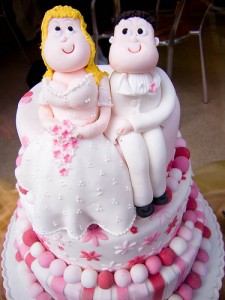 It always amazes me what cake artists can do with a little gumpaste.  Seriously.  Have you ever seen that stuff before it's carved and molded into something like this?  It's not exactly the easiest substance to work with.  How it goes from a lump of white stuff to this I'll never know.  I guess that's why I just write about cakes instead of making them.
But go ahead and check out the new Mr. & Mrs. on top of this gorgeous pink cake.  The bride and groom are carved to cartoonish perfection – perfect to add a little bit of fun to the top of your wedding cake.  I also love the cake that they sit on and wish there were a better shot of the cake itself!  If there is one thing that I LOVE it's a pink cake.  And this cake looks like its made to go to pink gumball heaven.  I love how the bride's bouquet perfectly matches the coloring on the cake.
What do you think of the gumpaste bride and groom?  And more importantly…any idea what happened to the groom's right arm?
Read More:
bride and groom cake topper
,
cake toppers
,
gumpaste cake topper
,
handmade cake toppers
,
Pink wedding cakes
,
wedding cake toppers