0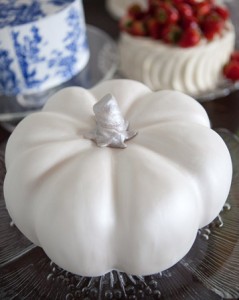 Remember the Toile the Jouy cake that I oohed and aaahed about yesterday? Well, as I flipped through the rest of the wedding, I realized that the dessert buffet for this particular real wedding, featured on Martha Stewart's website, was like nothing I had ever seen. The cake artist, Cheryl Kleinman of Cheryl Kleinman Cakes, created six single-tiered cakes with various themes to create the one-of-a-kind cake table for this precious couple. All of the pictures are so captivating that we are just gonna camp out here for the week, K?
Today, I show you a beautiful cake, just in time for our fall holidays: a White Pumpkin Cake with a Silver Stem. I love white pumpkins. They're so ghosty and ethereal, don't you think? And they're a fantastic decoration for fall-into-winter.
This particular pumpkin was a cake, however — even better! The beautiful white fondant concealed a pumpkin spice cake filled with honey buttercream icing. (I think I swooned a little bit somewhere in there.) Just beautiful.
Want to see a sneak peek for the rest of the week? You can see the whole story unfold here. Or wait until I tell it to you.

Read More:
pumpkin cake
,
silver and white cakes
,
silver cakes
,
white cakes