0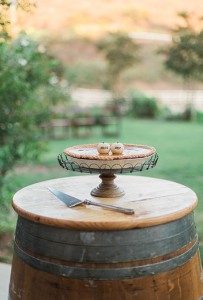 Let them eat…pumpkin pie!
OK, yes. There are still several weeks of summer left but I'm starting to spy fall decorations and pumpkin flavored treats all around. So I figured it was high time to start thinking about fall wedding cakes.
Or pies, like today's pumpkin pie.
Now this is a completely non-traditional "wedding cake" but I really love it! This would be perfect for a late fall wedding – or even a wedding during the Thanksgiving holiday weekend.
What I love most about this wedding pie – other than the pie itself – are the mini pumpkin "cake toppers" that say Mr. and Mrs. That is a great use of mini pumpkins!
Your guests will love this non-traditional dessert, but you could always serve cake for the guests (or other flavors of pie!).
You can find this wedding pie idea here.
Happy almost fall!
Read More:
fall wedding cake
,
pies
,
pumpkin pie
,
pumpkins