0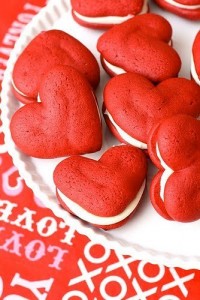 You know that as much as we love cake 'round here, we're willing to embrace sweets and treats (and the occasional savory indulgence) in all different forms. And so today, in honor of this being Valentine's Week, we give you…Heart Shaped Whoopie Pies.
Now, I don't know for sure, but I'm willing to bet that these are the Cake of Love, Red Velvet. Sandwiched together with fluffy icing and piled high on a pretty cake stand, they would make quite a statement.
I'm thinking I'd love to see a display of pink ones, and red ones, and brown ones (because you MUST have chocolate.) Wouldn't that be divine?
We found this beautiful image on Wedding Wire; it's the lovely work of Cereal Killer Buffets in California.  I'm fixin' to place my order in about 5 minutes.
Read More:
heart shaped wedding cakes
,
red and white wedding cakes
,
red velvet
,
valentines wedding cakes
,
wedding cake alternatives
,
whoopie pies