0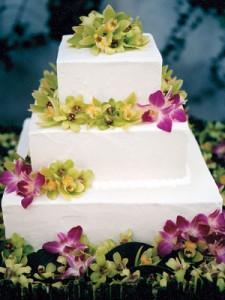 This week we're flashing back an entire decade to check out this lovely little cake from 2003.
When actress Elizabeth Banks married her beau Max Handleman at the Greystone Mansion in Beverly Hills they reportedly read love letters from their first year of dating rather than reciting vows.
Now if that isn't romantic enough, one look at their simple yet beautiful wedding cake and you know this was a spectacular affair.
The three-tiered squre cake was a chocolate and vanilla creation with white frosting. But my favorite part of the cake is that it is garnished with fresh orchids.
I love cakes that feature fresh flowers as their primary decoration – it makes the cake so vibrant and pretty. This would be a perfect cake choice for late spring or summer wedding. You can never go wrong with flowers on a cake!
I found this beautiful cake here. It was created by Hansen's Cakes.
Read More:
celebrity wedding cakes
,
celebrity weddings
,
chocolate cake
,
fresh flowers
,
orchids
,
square wedding cake
,
vanilla wedding cakes
,
wedding cakes with fresh flowers
,
wedding cakes with orchids
,
white wedding cake