0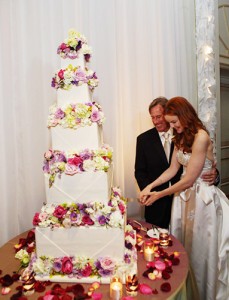 It's Friday again and that means we're heading back in time to check out another fabulous celebrity wedding cake.
This week's cake is a towering creation, but it's also very beautiful and floral.
When actress Marcia Cross (Desperate Housewives) married Tom Mahoney in 2006, she reportedly invited some friends to a cake tasting to help her choose the cake flavors. This is a genius idea, although my husband was more than happy to be part of our cake tasting.
At Marcia's cake tasting each friend picked her favorite flavor and the result was this stunning – and very tall – five tier wedding cake. The bride's favorite flavor was white cake with raspberry filling.
Just look at that cake, it's so pretty and summery with all those fresh flowers as garnish.
I absolutely love all the variations of roses and greenery.  I'm also a big fan of the rose petals sprinkled on the table for a little extra flower power. This might be one of my favorite celebrity cakes so far.
And since it was a celebrity wedding, I'm sure there were hundreds of guests at the reception, but given the cake's size, I doubt anyone went home hungry.
Read More:
celebrity wedding cakes
,
five tier wedding cake
,
floral wedding cake
,
rose wedding cakes
,
Roses
,
tall wedding cakes
,
tiered wedding cakes
,
wedding cakes with roses
,
white wedding cakes