0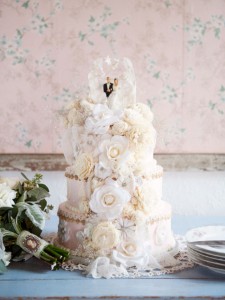 The minute I saw this cake it took my breath away! It's so stunning and visual and there's so much going on with it, but in a good way.
If I were planning a shabby chic wedding or even a wedding with a vintage, early 1900s vibe, I would do anything to get this beauty.
Take a few minutes to digest it. The cake itself is simple enough – three tiers with light pink icing. But the embellishments are just incredible. Pearls surround the bottom of each layer, while the top of each layer features gold and white roping. And then there are the flowers. So many beautiful flowers wrapped around the cake from the top layer and then cascading down the front with rivers of lace woven in with the flowers. And the "old fashioned" classic cake topper is perfect.
Honestly, the cake is really too pretty to eat. I would feel terribly guilty slicing it up and serving it to guests.
The cake is from The Bake Shoppe and Cafe and the beautiful photography was done by Christa Elyce Photography.
Read More:
floral wedding cake
,
lace
,
lace and pearl wedding cakes
,
pearls
,
Pink wedding cakes
,
shabby chic wedding cakes
,
vintage cake toppers
,
vintage wedding cake