0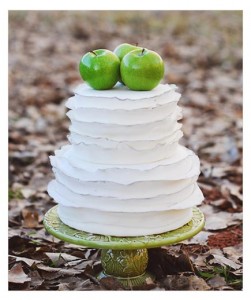 As I drove around town today I noticed some leaves starting to change color. This can only mean one thing – fall is right around the corner!
Fall is the best season in my humble opinion because fall means apples. Lots and lots of juicy and delicious apples.
So take a peek at this cake and tell me how perfect it would look at a fall wedding. It's just amazingly simple and gorgeous.
I love the simplicity of the three-tiered cake with rustic and not-so-perfect white frosting. But the kicker is the very non-traditional cake "topper" of three bright green apples. It makes the whole cake just POP!
And if you don't like the green apples, imagine how amazing the cake would look with bright red apples. No matter the color you might choose for you apple toppers, this cake would be stunning.
I just love fall weddings, don't you?
The cake was featured here. Photo by Of My Affection.
Read More:
apple cider cupcakes
,
apple wedding cakes
,
fall wedding cake toppers
,
fall wedding cakes
,
green and white wedding cakes
,
smaller simpler cakes
,
white cakes
,
white wedding cakes