0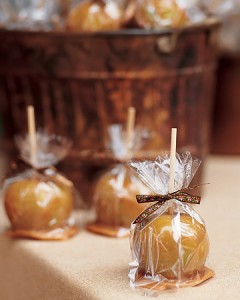 One of the best treats in the fall are caramel apples – they're sweet and gooey and since you're eating fruit, it's almost like you're eating something healthy.
We know how delicious they are, so just magine how fun it would be to have a table full of caramel apples as favors for your guests!
This is definitely a do-it-yourself type of wedding favor, provided you don't have a huge guest list and aren't afraid of making a mess.
But if you don't have the time to create the caramel apples, I bet there's an orchard near you that sells them and would be more than happy to prepare a wedding-sized order for you! For some variety, you could also add some candied apples to the mix too – the color combination of creamy brown and bright red on a favor table would be stunning at your fall wedding.
The best thing about this favor – other than the deliciousness – is that you can totally personalize the packaging. Most caramel apples come wrapped in cellophane, but you can tie a ribbon on each one that is coordinated to your wedding's color scheme.
This might be the most fun fall wedding favor ever! I found the inspiration here.
Read More:
apples
,
candied apples
,
caramel apple favors
,
caramel apples
,
DIY favors
,
fall wedding favors
,
fall wedding ideas
,
fall weddings