leaf cake decorations. edible fall leaves
0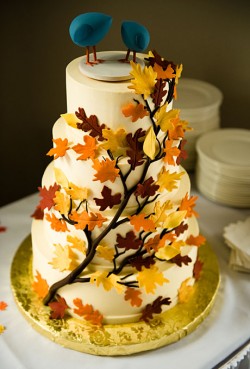 I think it's finally safe to say that fall is (really) in the air!
The air conditioning has been turned off for (hopefully) the last time until next spring, the stores are full of everything pumpkin, and the grass is covered in a carpet of brightly colored leaves.
Which brings us to this stunner of a fall wedding cake.
This cake is perfect for your fall wedding with its simple tiers and stark white icing accented by the single tree branch covered in fondant leaves.
I love the bright, vibrant fall colors of the edible leaves – the orange, yellow, and brown are just stunning and whimsical at the same time. Read More