autumn leaves wedding cakes
0
There must be something in the air this week as I'm still slightly obsessing over all things fall.
And while this cake would look great at any time of year – but would look amazing in the fall – I had to share it with you.
I found this cake while searching "DIY decorations" and perhaps a DIY wedding is not in the cards for you. However, I'm sure your baker could create some lovely leaves to wrap around your wedding cake. Read More
0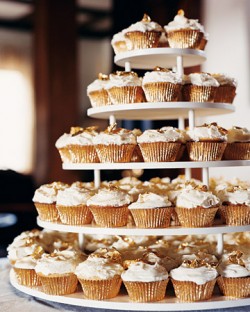 I absolutely love cupcakes and had they been the "in" thing all those eons ago when I tied the knot, I would have totally served cupcakes at my wedding.
And these golden cupcakes would have been at the top of my list of favorites!
The cupcakes are carrot cake – which isn't everyone's cup of tea, I know – but I'm sure you could adjust the cake flavor to something you liked if you aren't a fan of cakes made from carrots. Read More
0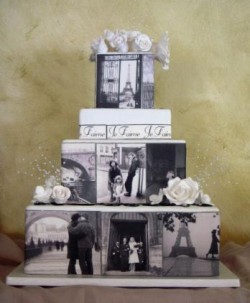 And where does this first day of April find you?  We are chillin', back home from our little getaway, and eager to take on the last quarter of school before – yippee! – summer vacay!  While it's hard to stay focused some days, when I remember that my focus is on, you know, cake and pretty…well, it suddenly puts it all in perspective.
So, what are your favorite finds lately in the world of wedding?  Let's compare notes!  But first, we'll take a look at Read More