0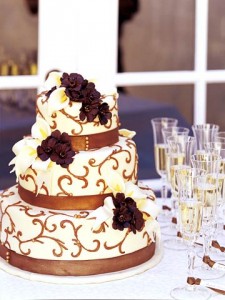 Did you know today is National Chocolate Day?
As a lifelong fan of all things chocolate, I will admit that I am definitely a fan of the "including chocolate in your wedding cake" trend that I have been seeing lately.
Sure, anyone can have a chocolate tier or two (or four) in their multi-tiered wedding cake, but I'm talking about having chocolate front and center on your wedding cake.
Take this cake for example.
It doesn't matter what flavor cake is inside, we have chocolate on the outside!
The cake features lovely and elegant chocolate scrollwork on the white icing, and chocolate fondant ribbons around each tier. To add to the overall beauty of this cake, they also added white calla lilies and chocolate-colored cosmos.
This cake is stunning and elegant and is really a perfect way to add chocolate to your wedding cake. Can't you just picture it at your wedding?
I found this chocolate creation here.
Read More:
chocolate cosmos
,
chocolate flowers
,
chocolate fondant ribbons
,
chocolate scrolls
,
chocolate scrollwork
,
chocolate wedding cakes
,
white and chocolate wedding cake
,
white calla lilies
,
white wedding cake