0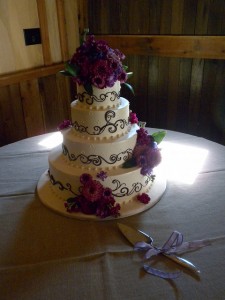 I love a good contrast, don't you?
Light and dark, old and new, bitter and sweet.  Give me opposites to bring out the beauty in both ends of the spectrum – opposites are the perfect analogy for marriage.  Opposites – in unity.
There are lots of opposites in this photo.  Light streaming in against the dark wood.  Dark chocolate scroll work against the creamy smooth buttercream.  The pop of color from the panoply of flowers against the simple linen tablecloth.
In a sea of fondant – and there's nothing wrong with fondant, but still – it's so refreshing to run across a cake that shows a flawless coat of buttercream.  And among stacks and stacks of white on white, and at the other end of the spectrum, over-the-top color, the fresh starkness of this strong scroll work is stunning.
Read More:
buttercream
,
chocolate scrollwork
,
contrast
,
simple wedding cakes
,
zinnias