0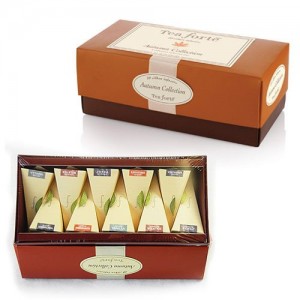 There's no denying it – the holidays are just around the corner.
And if you're thinking about the perfect favor for your holiday wedding, I have a suggestion.
Holiday teas!
No matter where you live, a warm cup of tea during the winter months is always a lovely idea. And with these holiday tea satchels, you're giving your guests a perfect gift.
This is a rather elegant gift too – so it might be best suited to a small wedding.
The silk tea satchels are filled with whole-leaf tea, rough cut hers, and flowers to create their unique holiday flavors. The teas are also hand-crafted and organic.
You can choose from an autumn collection or a winter collection of teas and each come in a small pyramid box that can be personalized with customized labels.
You can find these holiday teas here.
Read More:
holiday favors
,
holiday weddings
,
tea
,
tea favors
,
wedding favors