0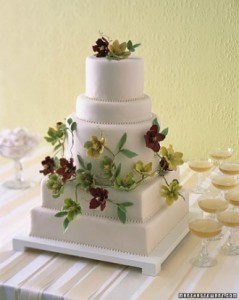 As much as I love seeing a wedding cake adorned with fresh flowers, there is something equally as gorgeous and elegant about sugar flowers.
Not only can sugar flower be beautiful but they're also edible – which is a win-win in my book.
This cake is both elegant and modern. I love that the bottom tiers are square while the top half of the cake features round tiers. It gives the cake just enough of an "edge" without being too over-the-top modern.
The icing is a combination of fondant and marzipan, giving it that parchment. It gives the cake an air of antiquity with a modern feel.
But what I love most is the halo of sugar flowers around the mid section of the cake. The flowers are delicately hugging the middle and are tinted with beautiful fall-like colors of sage and russet – perfect for your early fall wedding.
And no need for a cake topper here – just add a couple more sugar flowers for the perfect finish.
We found this beautiful cake here.
Read More:
cake with flowers
,
square and round wedding cakes
,
square cakes
,
sugar flowers
,
traditional wedding cakes with flowers
,
wedding cakes with flowers
,
white wedding cakes