0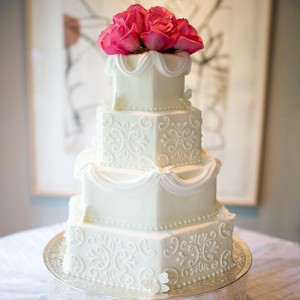 I never was very good with geometry and all those weird shapes that went with it.
But I can tell you this – I'm a big fan of wedding cakes that aren't the "traditional" round or square shapes. In fact, my own wedding cake was heart-shaped (which was trendy more than a dozen years ago, trust me!)
And that brings us to today's cake – the geometric wedding cake.
I really like the unique shape of this cake with its hexagonal tiers. It gives it a nice, modern feel without being too "out there."
The cake features delicate and elegant icing which also take the edge off the shape of the cake. The clean white icing is made more elegant with swirls of icing. Add to that the fondant swags and you have a lovely and modern wedding cake!
The pink roses are the perfect topper for this cake – anything other than fresh flowers and it would be too much.
You can find this unique cake here.
Read More:
floral cake toppers
,
fondant swags
,
fresh flowers on wedding cakes
,
geometric wedding cakes
,
modern wedding cakes
,
white wedding cakes