0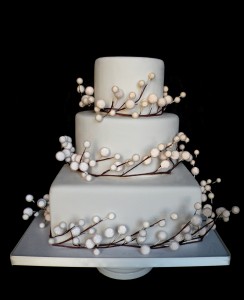 You all know how much I think of Winter (i.e. not much)….but one thing I love is a winter wedding. Snowflakes, glitter, silver and beautiful berries…my heart runneth over.
When I saw this cake I envisioned a lovely bride in Snow White gown, a fur stole and elbow length gloves. The bottom layer is a square shape and the top two tiers are round. I love the mix of the two shapes..it adds a bit of modern flare. Around the base are gorgeous Pearlized Snow Berries. It looks good enough to eat.
Oh but wait..you can't..because it's FAKE. That's right a fake cake. I must admit when I first saw this cake it was a head scratcher. A fake cake? What? Then it all started making sense. These cakes are made by Cakes Confidential. They will make a cake designed to your specifications and ship it to you anywhere in the United States. You can even rent some of their cakes. They coolest part? There is a slot in the bottom layer of the fake cake that the bride & groom can add real cake so they can still do the ceremonial "cutting of the cake." Then like magic the caterers whisk the "fake cake" to the back and come out with cut pieces of sheet cake.
How genius is that? In the era of the "recessionista" this is a great way to have a gorgeous wedding cake for about half of the price.
Read More:
cakes confidental
,
fake wedding cakes
,
pearlized snow berry wedding cakes
,
square and round wedding cakes