0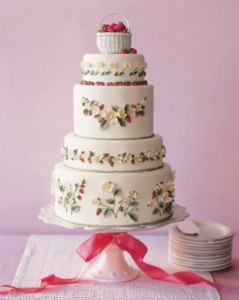 As I continue to dream about warmer weather, today I'm sharing a strawberry wedding cake with you.
Of course we all know that strawberries are a summer fruit – if you're from the northern half of the country, at least – but it's never too early to start thinking about your summer wedding.
I love the whimsy and simple charm of this cake. It makes me happy just looking at it.
The four tiers of the cake are frosted with a simple white icing which is embellished with gum paste fruits and flowers.
The details on each tier are so amazing, I really could stare at this cake for quite a while. And if the tiers aren't incredible enough, the cake is topped with an adorable mini basket of strawberries. So cute!
This really is the perfect cake to bust you out of those winter blahs and get your brain thinking about spring and summer weddings!
You can find this cake here. And if you're feeling really ambitious, you can find the DIY recipe for the cake here.
Read More:
berries and flowers
,
floral wedding cake
,
floral wedding cakes
,
fruit and flower wedding cakes
,
gum paste flowers
,
spring wedding cakes
,
strawberries
,
strawberry
,
strawberry wedding cake
,
strawberry wedding cakes
,
summer wedding cakes