0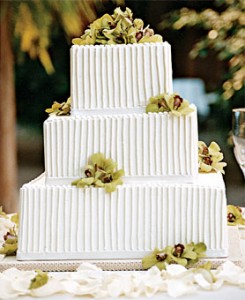 As much as I love the trend of colorful cakes that are anything but traditional, sometimes I like to go back to the basics and find a lovely white wedding cake with minimal embellishments.
Today, that is this white wedding cake adorned with fresh orchids.
What I love most about this cake is the simplicity of the design.
The stark white icing and the bright greens and dark purples of the orchids make this a stunning cake that would be lovely at your spring or summer wedding.
I am especially fond of the ridges on the buttercream icing – it gives the cake just enough texture to keep it from being boring or bland. And no one wants a boring wedding cake!
And if orchids aren't your flower, this cake design would be stunning with dark red roses or other small, bright flowers. The possibilities are endless.
I found this lovely creation here.
Read More:
floral wedding cake
,
green and white wedding cakes
,
intricate icings
,
orchids
,
ridged buttercream icing
,
simple wedding cakes
,
square wedding cakes
,
wedding cake with flowers
,
wedding cakes with orchids
,
white wedding cakes