0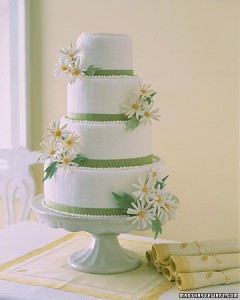 It isn't easy being green, especially when it comes to wedding cakes.
But since we're celebrating St. Patrick's Day today, I wanted to find a cake that had a little bit o' green in its design.
I think this cake with the green ribbons and cheery daisies is perfect. The green isn't too overpowering, and the daisies are such a fun flower that you just feel happier looking at them.
We have featured green cakes here before but if you don't want to go "all green" if your wedding happens to fall on or near St. Patrick's Day, a cake like this with just a subtle hint of green would be ideal.
One of the design concepts I like most about this springy cake is that the leaves are created from three different shades of green! And if you look closely at the cake, it is meant to resemble a flowered hat, with the daisies tucked into the ribbons on the "hats."
This cake is fun and cheerful and has a perfect amount of green for your St. Paddy's Day wedding. Luck o' the Irish to you today!
You can find this pretty spring cake here.
Read More:
daisies wedding cakes
,
green and white wedding cakes
,
green cakes
,
green flower wedding cakes
,
green ribbon on cake
,
St. Patrick's Day cakes
,
white daisies