cascading flowers
0
The groundhog has spoken and we're in for an early spring this year!
So it only seems appropriate to start dreaming about springtime wedding cakes covered in lovely, bright colored blooms.
I love fresh flowers on wedding cakes – it is the perfect way to make a statement with your cake without being too over-the-top. Read More
0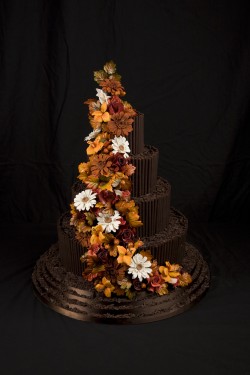 Until recently I never would have considered chocolate frosting on a wedding cake.
Don't get me wrong – I love chocolate – but I always thought wedding cakes "had to" be frosted with white icing of some kind whether it's fondant or buttercream.
Well, I'm happy to report that I've changed my mind and if I had to do my wedding cake over, it would be all chocolate.
As today's cake proves, a wedding cake with chocolate icing can be beautiful and elegant and downright stunning. Read More