candy trimmed wedding cakes
0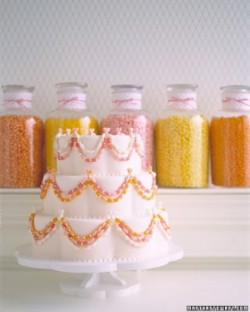 It's that time of year again – the store aisles are full of so many kinds of jelly beans, it's hard to choose a favorite!
Personally I'm a fan of the "traditional" jelly beans (minus the licorice flavored beans). But I never thought about embellishing a wedding cake with jelly beans. Until now.
How fun is this "jelly bean wedding cake"? I don't know about you, but I smiled as soon as I saw this cake.
It's just so cute and fun and whimsical – three things that mean you can't pass up this cake. Read More