basketweave wedding cakes
0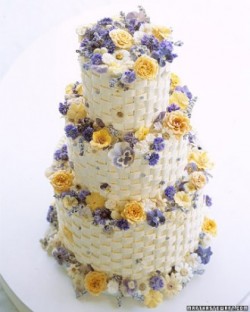 Everything is coming up roses (and violets, pansies, lavender, and cornflowers) with this stunning wedding cake!
I absolutely love this cake because it elegantly screams 'spring!' and because those are real flowers that have been crystallized with sugar.
The three-tier cake is frosted with buttercream icing that was piped on to resemble a basket weave – so the cake actually looks like baskets full of fresh flowers. Read More
0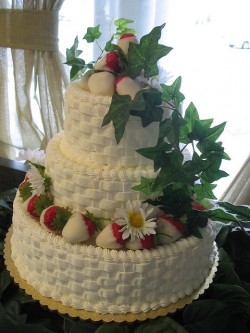 I'm in a contrary state of mind.
We are about to launch into the week before Christmas, and so, of course, Christen and I both have some delighful, sugar-plummy cakes planned for you.  So what better way to cleanse your brain palate than to offer you something completely off the wall today?
Yes.  It's July in December.
I mean, we do the opposite all the time, right?  Christmas in July and all that?  Well, here's a look at the summeriest thing I could find:  basketweave and strawberries, trimmed with ivy, with Read More