0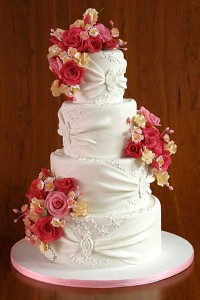 Winter is really REALLY here. Which means it is the perfect time to start dreaming about beautiful spring flowers!
Today's cake is perfect for floral daydreaming, don't you think?
I absolutely love the gorgeous pink roses – they make the cake almost too pretty to cut. Almost.
This cake would be beautiful with any kind of flowers – I'd love to see a version of this cake with deep red miniature roses. That would be so dramatic (and perfect for Valentine's Day, which is coming up soon).
The elegance of the cake is due to the fondant bands – they really look like the fabric of a wedding gown, gathered with sugar brooches.
You can find this cake here. It was created by Elegantly Iced.
Read More:
elegant wedding cakes
,
floral wedding cakes
,
pink roses on wedding cakes
,
spring wedding cakes
,
wedding cakes with roses
,
white wedding cakes