Roses
0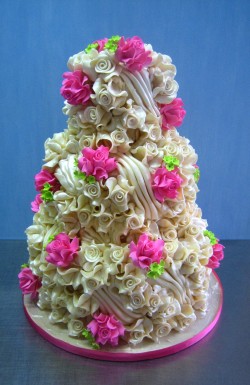 I love roses, which means this cake is quite possibly my favorite cake in a very long time.
This cake is another incredible creation by our friends at Hockleys Cakes in the United Kingdom and it's gorgeous!
Called the 'Aphrodite,' the cake is a vision of pink and white roses.
The three-tier cake is covered in 180 chocolate roses in addition to pink sugar roses. And it's all hand-crafted.
Not only is this cake a stunner, but…180 chocolate roses! That is a lot of chocolate. If you're a chocolate fan this is definitely the cake for you.
I love the subtly of the white chocolate roses and the bright color pop from the pink sugar roses. It  would be such a lovely cake at a spring or summer wedding, especially if you were incorporating roses into your floral theme.
Many thanks to our friends at Hockleys for sharing this creation with us.
Photo credit: Hockleys Cakes