0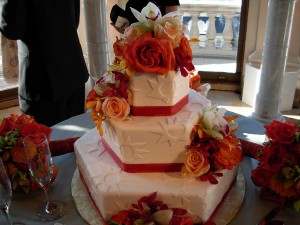 Happy Fall, Y'all!
Well…fall-ish. Reports are tricklin' into me from all over the country, from friends who are waking up to cooler breezes, nicer temperatures…my friend Matt in Texas even told me it cooled down to 90 in Austin yesterday.
But here in Florida, I'm manufacturing my fall because there is NO sign of it on the horizon.  And so I shall start with cake.
This cake screams fall – interesting fall – to me.  I have no idea if that's when the wedding took place, but I think it's a good guess, judging by the colors.  I think that this couple was also interested in stepping outside of the cakebox, judging from the details – octagonal cake; snazzy geometric, star design; white-on-white decorating so as not to overdo the snazzy geometric star design; color pops via bright bold ribbon trim and flowers.
All I need is a firepit, a warm shaw, and a glass of wine.  I think I could enjoy this California wedding very well.
Read More:
autumn wedding cakes
,
california weddings
,
colorful wedding cakes
,
fall wedding cakes
,
floral cake toppers
,
geometric design wedding cakes
,
white on white wedding cakes
,
white wedding cakes