0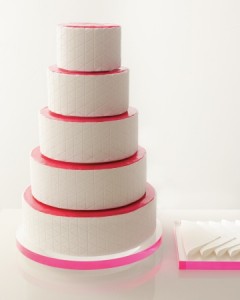 Sometimes when I'm looking for wedding cakes it's all flowers and embellishments. But every now and then I find a cake where simplicity is what makes it gorgeous.
This is one of those cakes.
It's your basic, run-of-the-mill five tier white cake. And on its own that would be a stunning cake and you could add some fresh flowers to make it really pop.  And you'd have a pretty but basic wedding cake.
I love this cake for the simple fact that it goes beyond the flowers with a brightly hued glaze in between each layer. The glaze here is a very eye-catching red (which apparently comes from cactus-pear puree). But if bright red isn't your favorite color – or if it might clash with your color scheme – I bet you could find a baker who could create a different color glaze using natural colors/flavors.
The other thing I love about this cake is the geometric pattern that was stenciled into the icing. It's subtle but makes a beautiful and modern statement.
This cake doesn't need a cake topper or any other decoration – it makes a statement perfectly without being too loud or over-the-top.
Read More:
bright colored wedding cakes
,
geometric design wedding cakes
,
modern wedding cakes
,
non traditional wedding cakes
,
simple wedding cakes
,
stenciled frosting
,
tiered wedding cakes
,
vibrant color wedding cakes
,
wedding cakes with bright colors
,
wedding cakes with stenciled frosting
,
wedding color palettes
,
white cakes
,
white wedding cake