0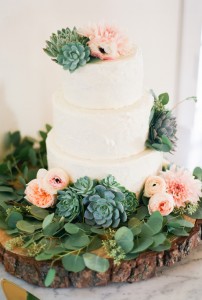 As much as I love wedding cakes with sugar flowers, I also love wedding cakes that feature real flowers and plants.
Just like this cake with succulents.
I love the understated elegance of the cake and the use of succulents just adds to that elegance.
I have to admit as much as I love bright flowers on cake I also love when brides forgo that bright pop of color for something a bit more understated.
The simple three tier cake features succulents, anemones, and ranunculus and it's presented on a simple wood slab from a tree.
This cake would be gorgeous at a spring or summer wedding – especially with an outdoor reception.
This gorgeous cake was created by The Butter End Cakery and was featured here.
Read More:
fresh flowers on wedding cakes
,
shabby chic wedding cakes
,
simple wedding cakes
,
succulents and flowers on wedding cakes
,
wedding cake with succulents