0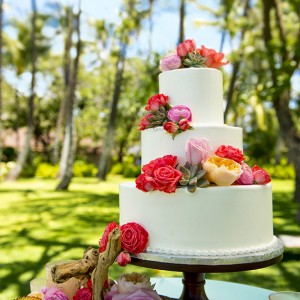 I absolutely love roses on wedding cakes.
I'm not sure if it's because I love roses or because there are so many colors and varieties and they all look stunning on a wedding cake.
But whatever the reason, if there is a cake with roses I'm going to swoon.
And that's exactly what happened when I saw this beauty over on the "Ever After Blog" on  Disney's Fairy Tale Weddings and Honeymoons website.
I swooned. I really, truly love this cake.
For starters the icing is that stark white icing that lends itself to so many decorating options. I am a huge fan of cakes that feature a smooth and bright white palette.
And then we have the roses. This cake was featured at a wedding in Hawaii at Aulain, A Disney Resort & Spa, so they are Hawaiian roses. The colors are so bright and cheerful and they make the icing pop!
To add a little bit of green to the cake the bride and groom chose to use succulents as an accent and they're a perfect combination with the bright colored roses.
Even if you aren't getting married in paradise, roses and succulents are a great color combination. I am imagining a cake with black magic roses (deep red) and succulents at a fall wedding. Or bright pink roses and succulents at your spring wedding.
It's a winning combination no matter what time of year.
Read More:
disney wedding cakes
,
floral wedding cakes
,
pink roses on wedding cakes
,
roses and succulents on wedding cakes
,
roses on wedding cakes
,
spring wedding cakes
,
succulents on wedding cakes
,
succulents wedding cakes
,
summer wedding cakes
,
yellow roses on wedding cakes