0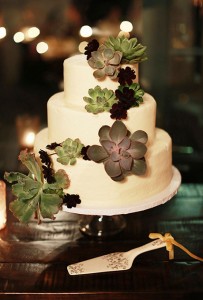 This week is the week! Fall officially begins on Wednesday!
Which means…we're going to be talking a lot about fall wedding cakes.
Today seems like a good day to start that conversation. And this simple yet elegant wedding cake is the perfect cake to officially kick off fall a few days early!
Using succulents rather than fresh flowers to adorn wedding cakes seems to be rather popular. It's a trend I can get behind.
I love the simple, understated elegance of this cake. It's visually stunning without being stuffy or boring. The succulents give it the perfect floral touch without adding too much.
This cake would be lovely at any fall reception – it adds just the right amount of 'fall flavor.'
You can find this wedding cake here.
Read More:
fall wedding cake
,
simple wedding cake
,
succulent wedding cake
,
wedding cakes with plants
,
white wedding cakes