0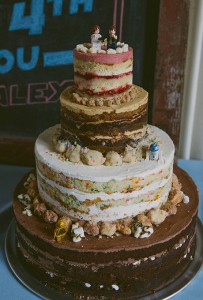 Today I'm showcasing another naked, unfrosted wedding cake simply because it's like nothing I've seen before.
Not only is it part of the whole "naked wedding cake" trend that just keeps hanging on (what do you have against frosting??) but look very closely at the cake.
Do you see what I see?
Yep! That's right! Star Wars Lego figurines.
That. Is. Awesome.
Han and Leia are the cake toppers (of course) but at the bottom you'll spot our favorite droids too!
I also love this cake because it features several flavors of cake – which means it'll be delicious even without the icing.
And it's also colorful and fun and I'm pretty sure your guests will love it!
You'll find this three-tier cake here. It was created by Momofuko Milk Bar.
Read More:
fun cake toppers
,
naked wedding cakes
,
Star Wars Cakes
,
unconventional wedding cakes
,
unfrosted cakes