0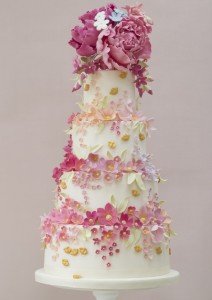 As we inch ever closer to the last month of summer, I'm doing my best to keep a firm grip on the warm weather and flowers, because we all know fall is just around the corner.
That being said, I had to share this cake today because as soon as I saw it I was in love. With a cake.
At first glance you might think "wow, this is a busy cake"…and while you'd be right, I would argue that it's busy in a good way. A really good way.
I love the stark white icing on the four-tiered cake. But what I love more are the brightly colored flowers that adorn the cake from top to bottom.
The flowers are in all shapes and sizes and colors and it's a beautiful sight.
But look closely. There is more to this cake than just flowers. Look at the tiny yellow bees that have landed among the blooms.
This cake is the epitome of all things summer – bright flowers and buzzing bees – and it would be perfect at your summer reception.
No matter how many amazing cakes I find, I always go back to the basics – and for me, that's flowers on a cake.
This four-tier stunner was created by Rosalind Miller Cakes. You can also see it here.
Read More:
floral wedding cakes
,
flowers and bees on wedding cakes
,
flowers on wedding cakes
,
fondant flowers
,
honeybees
,
sugar flowers
,
summer wedding cakes
,
summer weddings
,
white wedding cake with flowers