0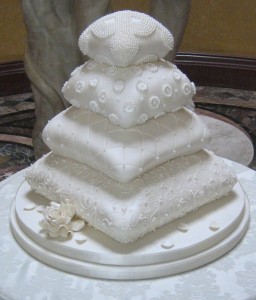 There are gorgeous, take-your-breath-away wedding cakes.
And then there's today's wedding cake which goes beyond leaving one breathless.
This cake is downright stunning.
The four-tier "novelty cushion wedding cake" is another amazing creation from our friends at Hockleys Cakes over in the United Kingdom.
The cake's intricate and delicate pattern was based on the bride's wedding dress (I would love to see the dress!) and the top "cushion" tier was created to look like the pillow that held the wedding rings.
Can you imagine how beautiful this wedding must have been?
This cake is truly too gorgeous to eat – but I'm sure the guests enjoyed it nonetheless.
I love the intricate details on each of the cushion tiers – it's so amazing the attention to detail.
Many thanks to Hockleys Cakes for sharing this design with us.
Photo credit: Hockleys Cakes
Read More:
cushion wedding cakes
,
dress inspired cakes
,
Hockleys Cakes
,
pearl wedding cakes
,
pearls on wedding cakes
,
white wedding cakes