halloween weddings
0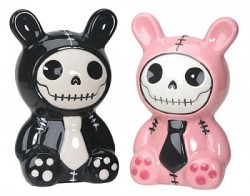 First and most importantly – Happy Halloween!
Since today is the day for ghosts and ghouls and goblins, I thought it was only fitting to showcase a wedding cake topper with a Halloween vibe.
And so, I give you the 'Bun-Bun Skeleton Wedding Cake Topper.' Read More
1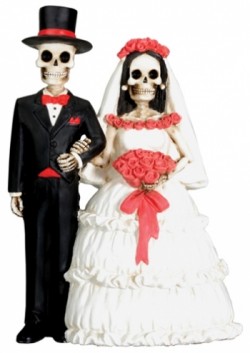 I hope you've all recovered from eating way too much Halloween candy last night because I have something totally unique and way cool to share with you today!
Check out this "Dia de los Muertos" (Day of the Dead) cake topper!
OK, so maybe it's not the first thing you think of when you think "cake topper" but you have to admit it's pretty cool. And it would be THE statement piece at your reception. Read More
0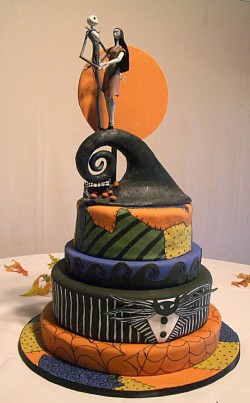 I love The Nightmare Before Christmas. In college my sorority had a Halloween Mixer. Most of my sisters went as nurses or some sort of cute animal like a kitten or a tiger. I think Cady Heron (a.k.a. Lindsay Lohan in Mean Girls… before she went all nutso) said it best, "Halloween is the one night a year when girls can dress like a total s— and no other girls can say anything about it."
Me? I went as Sally from The Nightmare Before Christmas. I didn't get the memo about the skimpy costumes.
When I found this cake on Pinterest I squealed Read More