1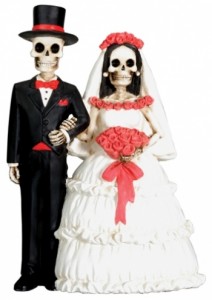 I hope you've all recovered from eating way too much Halloween candy last night because I have something totally unique and way cool to share with you today!
Check out this "Dia de los Muertos" (Day of the Dead) cake topper!
OK, so maybe it's not the first thing you think of when you think "cake topper" but you have to admit it's pretty cool. And it would be THE statement piece at your reception.
This gothic skeleton couple would be perfect for a Halloween wedding, a gothic-themed wedding, or for the couple who celebrates Dia de los Muertos!
I found this cake topper here and there were many more options you could choose from, including this one which I loved!
What do you think? Would you consider this cake topper?
Read More:
dia de los muertos
,
dia de los muertos wedding cake topper
,
gothic wedding cakes
,
gothic weddings
,
halloween themed cakes
,
halloween themed wedding cakes
,
halloween wedding cakes
,
halloween weddings