0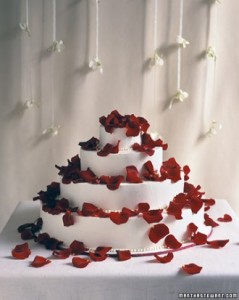 I've been writing a lot about the use of fresh flowers on wedding cakes and how much I love the trend.
Heck I even used fresh Black Magic Roses and greenery on my own wedding cake more than a decade ago.
Fresh flowers just never go out of style (in my humble opinion).
But, instead of using the whole flower, consider for a moment using just the petals from those fresh flowers – just like this cake.
I love the gentle elegance of this stark white wedding cake adorned with dark red roses. It just screams romance – in a very subtle way. And if you aren't a fan of red roses you could surely choose another color. But I think roses are the best petals to use with this design as other flowers might be too small.
The small pearl accents around the cake tiers add just the right amount of delicate beauty to the cake.
We found this beautiful wedding cake here.
Read More:
flowers on wedding cakes
,
pearls on wedding cakes
,
real flowers
,
red roses on wedding cakes
,
roses on wedding cakes
,
wedding cake with roses