0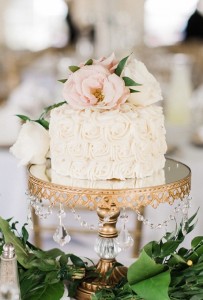 I love roses. They're one of my favorite blooms, especially when it comes to wedding flowers.
In fact, my wedding bouquet was made of roses and I used roses on my 8-tier wedding cake.
Today's cake is a bit more simple – with just one tier – and much more rustic than my over-the-top early-2000's cake.
This lovely one-tier cake is truly for the rose lovers out there. The cake is adorned with floral frosting details – look closely, the frosting looks like roses.
And, the top of the cake is adorned with even more flowers.
This cake would be ideal for your rustic spring wedding!
You'll find this cake here.
Read More:
floral wedding cakes
,
fresh flowers on wedding cakes
,
one tier wedding cakes
,
roses on cakes
,
spring wedding cakes