0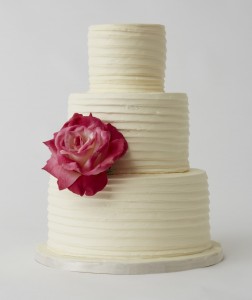 Sometimes the simplest wedding cakes are the ones that stop you in your tracks.
That just about sums up today's wedding cake. It's pretty. And simple. And elegant.
And it is adorned by one very lovely rose but it doesn't need anything else.
I love wedding cakes with fresh flowers – and usually that means a lot of fresh flowers.
But when you find that one perfect rose it's all you'll need to have the perfect wedding cake.
And the best part about this cake? You can pick any color rose you want. If you love deep red Black Magic Roses that would be lovely. Or maybe a light pink rose is more your style. Or maybe you don't want roses at all but would rather adorn your cake with another type of bloom.
Go for it!
We found this lovely wedding cake here. It was created by LuLu Cake Boutique.
Read More:
floral wedding cakes
,
fresh flowers
,
pink roses
,
red roses
,
Roses
,
simple wedding cakes
,
wedding cakes with roses