0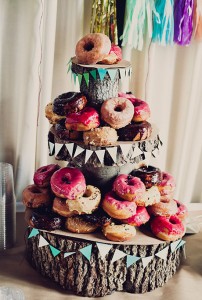 Let them eat … doughnuts!
Sometimes you just want to be a litte non-traditional, right? So why not consider skipping the wedding cake entirely and giving your guests a different sweet treat?
Like doughnuts!
While this type of "wedding cake" isn't what most people are expecting, it's always fun to do something different. Plus, just about everybody loves doughnuts. You could event add smaller "cakes" made out of doughnut holes.
A doughnut wedding cake would be perfect if you're having a smaller reception, or an informal celebration, and it would especially cool at a brunch reception. Doughnuts are the perfect addition at a brunch.
And for a little extra sweetness for your guests, offer take-out boxes just in case they want to take a doughnut or two for a late-night snack.
We found this fun doughnut tower here.
Read More:
brunch weddings
,
doughnuts
,
fun wedding cakes
,
non traditional wedding cakes
,
non-cake wedding cakes
,
small wedding cakes