0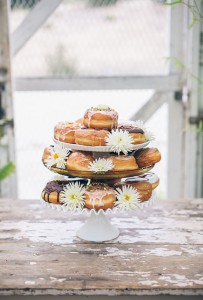 Sometimes I crave doughnuts.
I'm talking about those fresh-from-the-bakery, crispy on the outside doughnuts that make you all warm and fuzzy inside.
And if you love doughnuts as much as I do, it would be so much fun to serve doughnuts as your wedding cake!
Talk about an unexpected cake!
I love the idea of non-traditional wedding cakes made from ice cream, or cheese, or even pies. But a doughnut wedding cake is genius.
You can choose your favorite doughnuts from you favorite baker and have them presented on a gorgeous tiered cake stand. And your guests will love it!
If you're still looking to have a traditional cake to cut, maybe your baker could make a giant doughnut cake. Now that would be delicious!
You'll find this fun wedding cake idea here. The cake was created by A Spoonful of Sugar.
Read More:
doughnut wedding cake
,
doughnuts for cakes
,
fun wedding cakes
,
nontraditional wedding cakes