1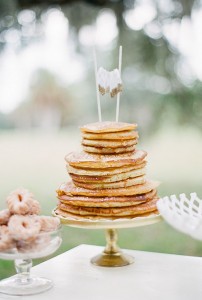 No, your eyes aren't playing tricks on you.
That headline really says "pancake wedding cake."
When I saw this "wedding cake" as I was searching for something fun and whimsical I knew it just had to be shared.
We've seen a lot of unconventional wedding cakes around here – OREO cookie cakes, chocolate chip cookie cakes, doughnut cakes, and even cakes made out of cheese.
But a three-tier wedding cake made out of pancakes is a first. And I have to be honest – I love it!
Imagine how much fun this cake would be at your morning or brunch time wedding reception. You can pair it was a dessert table filled with doughnuts, croissants, and other yummy breakfast sweets.
It's just such a fun cake idea and would be perfect for a smaller, casual reception.
Would you ever have a non-cake wedding cake?
You can find this pancake wedding cake here.
Read More:
doughnut wedding cakes
,
doughnuts at weddings
,
pancake wedding cakes
,
unconventional wedding cakes