0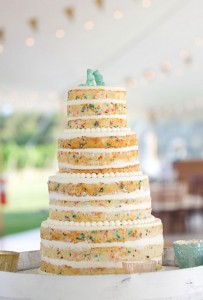 I will admit that I have a love-hate relationship with "naked" (non-frosted) wedding cakes.
On one hand I love the elegance and modern vibe of the cakes.
But on the other hand I'm a frosting kind of girl – the more the merrier. So a cake that purposely lacks frosting is suspect.
However, I do love this naked wedding cake if only because the cake batter has sprinkles baked in, giving it a very spring-y, colorful vibe!
Yes, the cake is still lacking the right amount of icing, but I'll let that slide this one time because it's so darn gorgeous.
This cake was created by Russel Morin Catering. You'll find it here.
Read More:
cakes with sprinkles
,
modern wedding cakes
,
naked wedding cakes
,
spring wedding cakes
,
sprinkle wedding cakes