chocolate frosting
0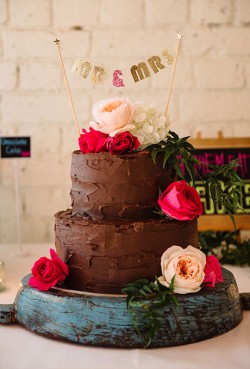 If there's one non-traditional wedding cake that I'll always be a fan of it's the chocolate wedding cake.
Everyone is expecting a cake with white icing, even if the cake inside is a variety of flavors. So why not wow your guests and surprise them with a chocolate frosted cake?
The cake flavors could vary – chocolate, marble, yellow – but to see a wedding cake frosted with gloriously delicious chocolate icing? That would be incredible! Read More
0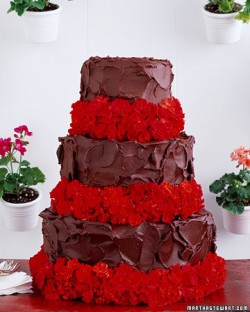 Do you ever get in one of those moods when all you can think is "Chocolate! I need chocolate!"?
Well, that's the frame of mind I'm in today which is why I searched high and low for a decadent chocolate wedding cake to share with you.
Will you look at this gorgeous cake?
What I wouldn't give for a slice of that right about now.
This cake is the classic devil's food cake – which is really what you want when you're eating chocolate cake. Read More